How to Throw a Baby Shower On a Budget: The Ultimate Guide
The average baby shower can easily cost up to $1,000 -- but especially in today's social media-obsessed world, the desire to make your shower picture-perfect and unique can easily mean that your shower could end up costing double or even triple the usual cost.
You're not interested in spending that much on a baby shower -- after all, you feel like that money is much better spent on the nursery, your hospital bills, or not taking on debt.
Still, you'd like to celebrate your new baby's arrival with the people you care about the most.
So, how can you throw a baby shower on a budget, and where can you find adorable -- but affordable -- invitations, party games, decor, and more?
Keep on reading to find out.
Get Real About Your Guest List
We get it: you're so excited about your impending arrival that you want to share your joy with as many people as possible.
However, if you're going to throw a baby shower on a budget, you need to think hard about how many people you can truly afford to send invitations to, feed, provide drinks for, and find an event space that's in your budget but can still comfortably accommodate your guests.
In other words?
Ask yourself if your coworker's best friend whom you've never met really warrants an invitation -- and never make the deadly mistake of assuming that only a small percentage of the people you actually invite will come.
This is doubly important if you're sticking with tradition and having a close friend host your baby shower for you. The last thing you want is for her to be financially responsible for 60-70 of your so-called "closest friends."
Plus, an excessively large guest list can make your baby shower look like a gift grab -- and that's a huge turn-off to the people in your life.
The "sweet spot" for baby shower guest lists is somewhere between 20-25 people.
Once you (and, in some cases, the hostess) have decided on who gets one of those coveted invitations, it's time to find a way to make your baby shower invitations more affordable.
To save both time and money, look for fill-in-the-blank invitations that come with peel-and-stick envelopes and are designed by small businesses and printed in the USA.
Fill-in-the-blank invitations are much more affordable than custom printed invites -- which can cost over $2 each, and they look just as cute.
After all, you want to spend most of your money on the party itself, not on the invitations!
Host It in Someone's Home
Here's the thing about your baby shower: as excited as you are for the celebration, you're probably also going to be tired, hormonal, stressed out, and hungry.
It's hard to be happy and comfortable when you're sitting in a crowded restaurant, or a venue that will require you to spend lots of time on your feet.
One option in the warmer months is to host it outside. In a friends backyard or even at a park.
The best -- and most intimate -- setting for your baby shower is your home or the home of a close friend or family member. You know where everything is, you can claim your precious couch, and, best of all, it's free.
The only thing you may want to splurge on here is a cleaning service to help you clean before and after the shower (though more than likely, if you ask your friends, they'll be more than willing to tackle the mess for you.)
Beautiful Decor Doesn't Have to Be Expensive
Next up on your affordable baby shower checklist?
Your decor.
Yes, celebrity culture can make you feel like having a VIP room filled with flower sculptures, expensive place settings, a photo booth, and your own luxury outdoor tent.
However, the truth is that an over-the-top baby shower isn't all it's cracked up to be.
You can find awesome decor that matches your theme and highlights your baby's gender in a classy, fun way without having to blow your budget. You can grab some themed stickers (we especially love these elephant stickers) to stick on your cups, mugs, and wine glasses for a personalized look.
You can even get some pink, yellow, or blue balloons, blow them up, and stick themed stickers on them. Streamers, party horns, confetti, and printable paper signs are all also amazing and affordable decorations.
You can get themed paper plates and napkins for an extra special touch! Or stick with simple colors to keep the budget down, depending on where you want to splurge.
Remember, the main part of the baby shower isn't how the space looks -- though of course, you want it to look special. Instead, it's about having the chance to gather and celebrate with your friends.
Think About Food
Now that your baby is well on its way, chances are that you've gotten used to some of your strangest food cravings.
Still, that doesn't mean that your guests will be quite as enthusiastic about eating pickles and ice cream, canned cheese, and endless piles of doughnuts as you are.
You want to make sure that your cravings are met (after all, if there's ever a time where you deserve to have control over a menu, this is it) but you also want to ensure that your guests have enough to eat.
Sometimes, dealing with everyone's dietary restrictions, allergies, and preferences can be intimidating. And while you don't mind picking up a few things from the store or cooking one dish yourself, the costs of feeding 20-25 people can add up pretty quickly.
The good news?
Potluck baby showers aren't just all the rage now, they're also a budget-friendly option that ensures everyone gets exactly what they want to eat. Ask the friend who is hosting the shower to assign each guest a course or dish so that you don't end up getting tons of the same foods.
You can provide smaller, easy-to-make (and by that, we mean buy) snacks yourself. Cupcakes are a fun and affordable option. We also love the idea of putting popcorn into cute carnival-style boxes like these. (Plus, this makes cleaning up a breeze, since all you have to do afterward is toss them in the trash can.)
Everyone loves buffet-style -- and we're sure that you'll also appreciate having the chance to go back to get another plate as many times as you'd like.
If potluck isn't your style you can opt to have the baby shower in the mid morning or mid afternoon - when people aren't expecting a full meal.
Also, make sure that you have enough water on hand. You can even use these labels to dress up your water bottles and it becomes part of the decor!
When it comes to serving the food, a few card tables put together with a festive disposable tablecloth is the way to go.
Baby Shower Games
Of course, no baby shower is complete without a few party games to get people talking, and this is an especially great idea if your guest list includes people who may not all know each other very well.
Games are affordable, great icebreakers, and tons of fun.
While of course, games are all about celebrating the arrival of your baby, we love ones that celebrate mom and dad, too.
The "Guess Who" game is a series of questions about you and your husband. They can include things like, "Who is more nervous?" "Who told the family first?" or "Who is going to change the most diapers?"
(Just make sure that mom and dad agree on the answers ahead of time!)
Whichever one of your guests gets the most answers correct wins a prize.
Another great game is the animal match option. Your guests are given a card that has the name of the adult female animals on one side and the name of the baby animals on the other. (Think deer and fawn, bear and cub, and cow and calf.) Your guests will need to match the baby and mother animal names together, with the top three winners getting a prize.
Popular baby shower game prizes that are also budget-friendly include hand sanitizer, nail polish kit, various candy, or a mixture of all.
Affordable Baby Shower Favor Ideas
You want to be able to thank all of your amazing friends for taking time out of their days to come and celebrate your shower with you.
However, you also don't want to have to spend a ton of money on party favors. The truth is that your guests don't really need yet another tee-shirt, drink koozie, or pair of cheap sunglasses.
Instead, smaller favors are a much better idea -- and they can also help you to say "thank you" to your guests on their way out the door.
Pick up a bulk back of candy and invest in some candy label stickers that have pictures of elephants, butterflies, or nautical elements on them. Then, stick them on the bottom of Hershey Kisses® or any other candies. You can place several in an organza bag with a thank you tag for a cute touch.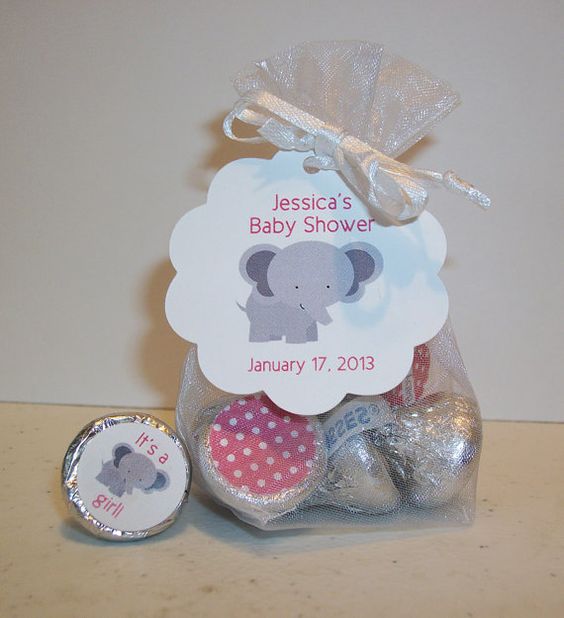 Especially if lots of your friends already have children, hand sanitizer is always appreciated -- and needed! You can pick up a few stickers that say "thank you" and toss them on the bottles.
You can even use baby shower stickers to decorate and dress up plain brown paper bags to hold the favors.
Thank-You Notes
You know that it's incredibly important for you to write thank-you notes for your baby shower guests, but you don't want to have to spend a lot on expensive stationery.
Plus, especially since you'll be just a few weeks away from your due date once the shower is over, you likely won't exactly feel like personalizing each and every thank-you note.
It's completely fine to go with a fill-in-the-blank thank-you card option, or even just to thank guests for their time and help. This way, you don't have to assign someone to write down who gave you which gift while you're opening them, and everyone will be able to relax and enjoy the shower.
You can even include any leftover stickers that you have from the shower on the envelope.
Throwing an Awesome Baby Shower on a Budget Is Completely Possible
No matter what anyone else might try to tell you, you absolutely can throw a beautiful baby shower on a budget.
It's all about knowing when to ask for help, setting fair and realistic expectations, and doing everything you can to keep your guests fed, comfortable, and entertained.
At the end of the day, remember that your baby shower is all about celebrating with friends and family -- not to drain your savings account or go into debt to make it happen, no one should try to convince you otherwise.
So, where can you go to find the best affordable baby shower invitations, games, stickers, treat boxes, decorations, and much more?
At Digitaldoodlebug, we're all about making sure you have everything you need to make your shower special. Check out our massive baby shower inventory to come up with theme and game ideas.
Plus, to help you stick to your budget, we'll even include free printable baby shower games!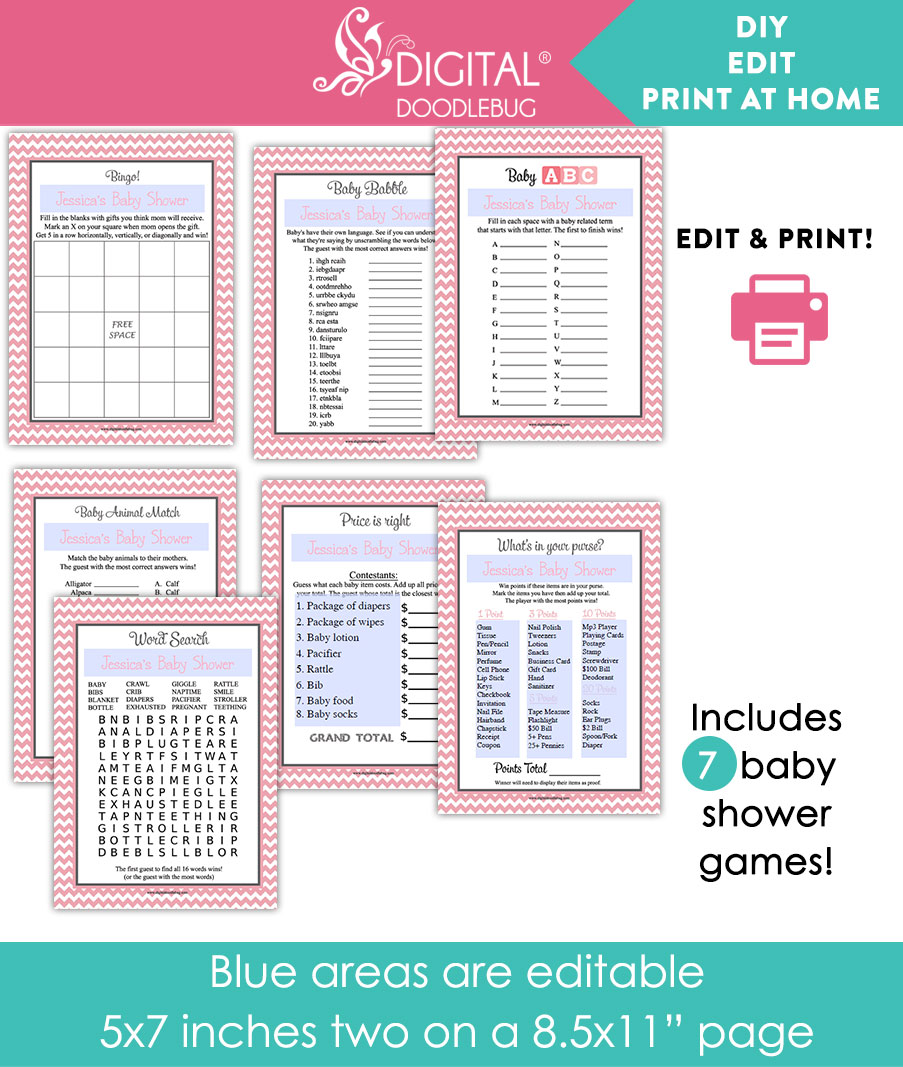 Download blue, pink, or yellow.
And once your baby arrives?
Use our closet dividers, baby month stickers, and even first day of school signs to make every occasion a celebration.