​Ideas for how to setup a cheap hot chocolate bar station + free printables
Hot cocoa bars are a lot of fun and perfect for the winter weather. They can be used at a gathering of friends, a baby shower, wedding, or even a graduation. I was able to make a hot chocolate bar without buying any extra items. To start, decide where you will setup the cocoa station. You can pick a spot on your kitchen counter or put up a folding table with a decorative tablecloth. Use this free printable hot chocolate bar sign and place it in an 8x10 frame. You can get a cheap frame at the dollar store and save it for future stations and parties.
The Hot Chocolate
For hot chocolate you can use individual packets for an easy setup if you only have a few people. Couple that with an electric hot water kettle to get instant hot cocoa. If you'll be having a bigger crowd you can make your own hot cocoa recipe in a slow cooker.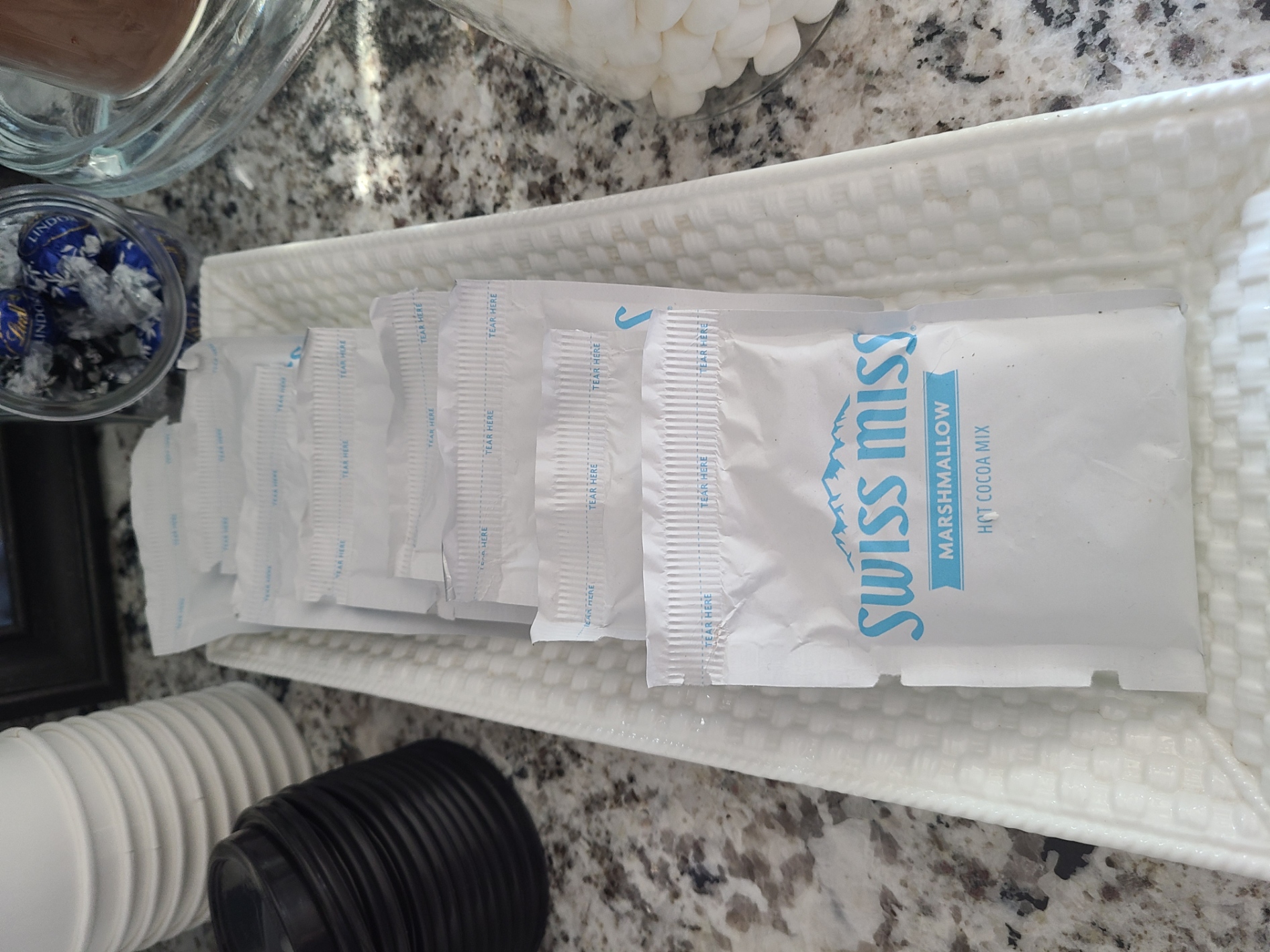 Display Containers
Start by looking around your house for containers or platters. These can be glass jars, mason jars, fancy cups, or serving plates. The glass jars are ones I was already using for pantry storage. You can vary the containers with what you have. But by keeping them matching it makes it look cohesive and organized. Simply turn them around (so any current labels don't show) and place removable labels on the front to make matching hot cocoa decor. Or instead of labels print out free printable paper tags (page 1, page 2), punch a small hole through the top, and tie it on your jar with decorative twine. Why use labels when people can already tell what the hot cocoa toppings are? Because they are an easy and cheap way add to the decor and help tie everything together.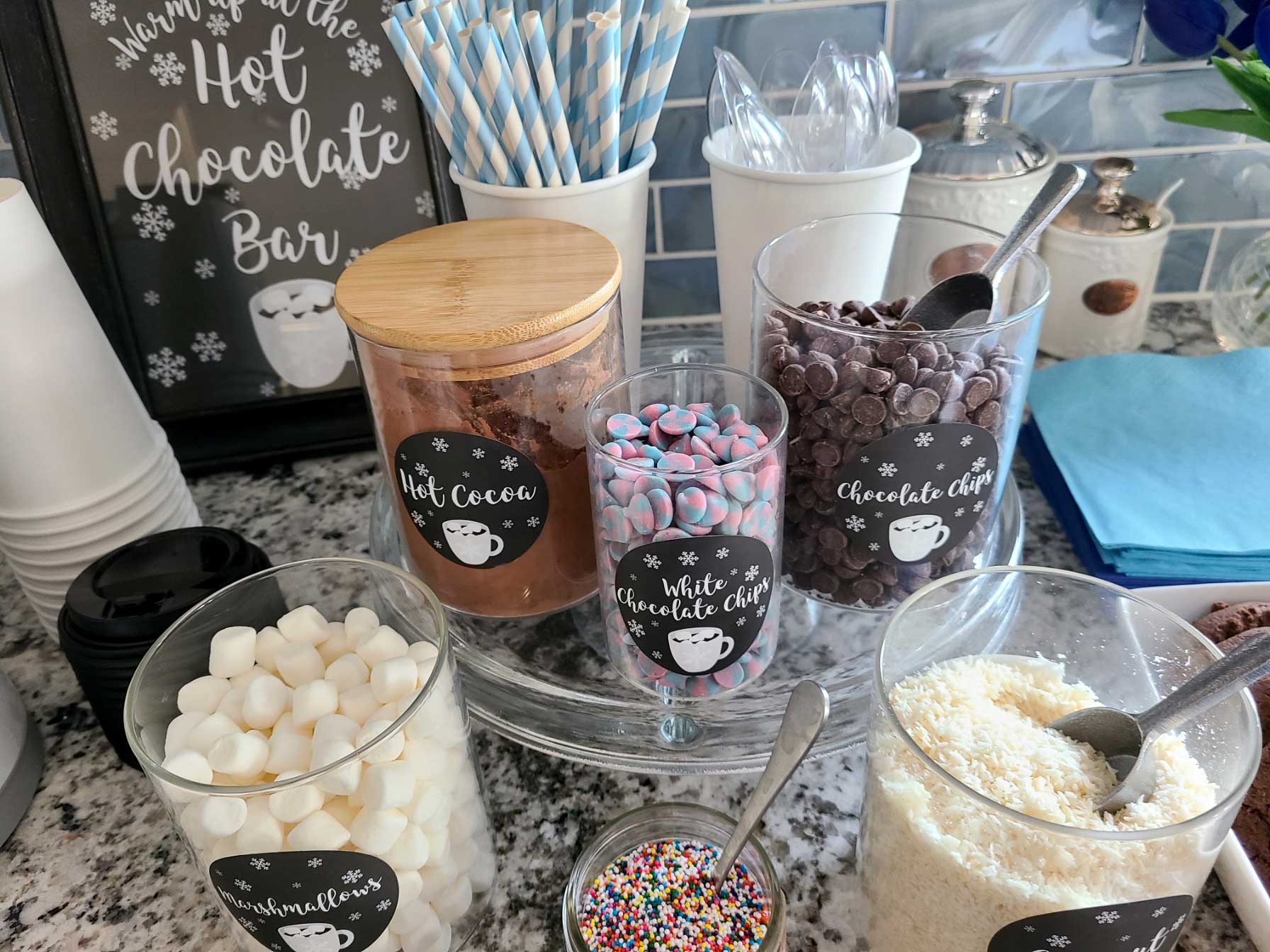 Toppings and Dipping Treat Ideas
Caramel
Vanilla Syrup
Chocolate Syrup
Hazelnut Creamer
Cinnamon
Sea Salt
Toffee Bits
Sprinkles
Marshmallows
Peanut Butter Cups
Chocolate Chips
Dark Chocolate Chips
White Chocolate Chips
Butterscotch
Coconut
Truffles
Kisses (and in various flavors)
Peppermints
Cookies
Candy
Pirouettes
Malted Milk Balls
Candy Canes
Add height both for visual affect and to make the hot chocolate toppings easier to see. I had a glass cake/chips display and the bottom half was perfect for this. Other items that would work: shelves, a tiered cupcake display ( or make your own), or risers made from wood.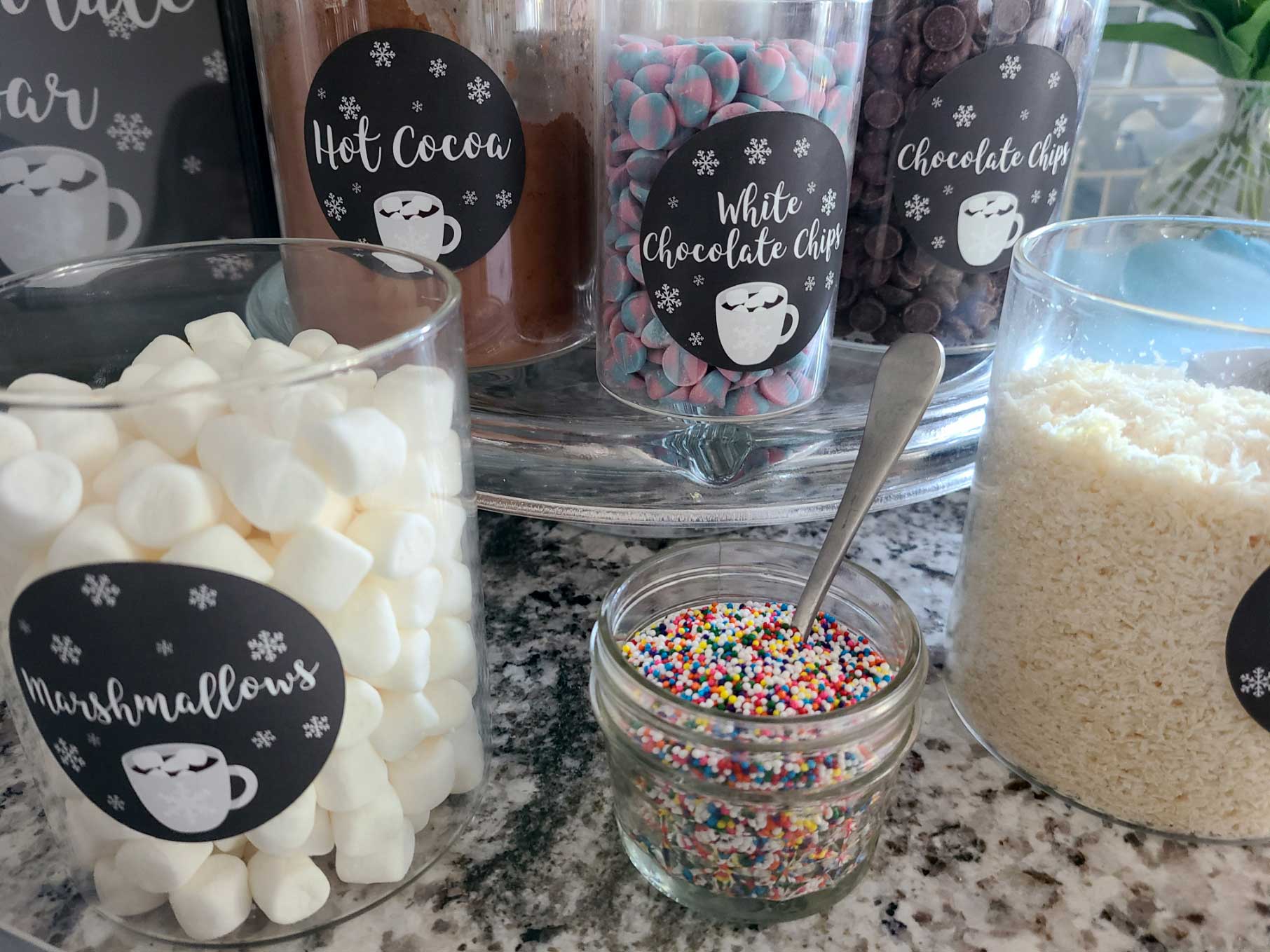 Then all you need are some small spoons or scoops, and basic party items like cups, napkins, paper straws, and spoons. Store straws and spoons in one of the cups or use a decorative cup.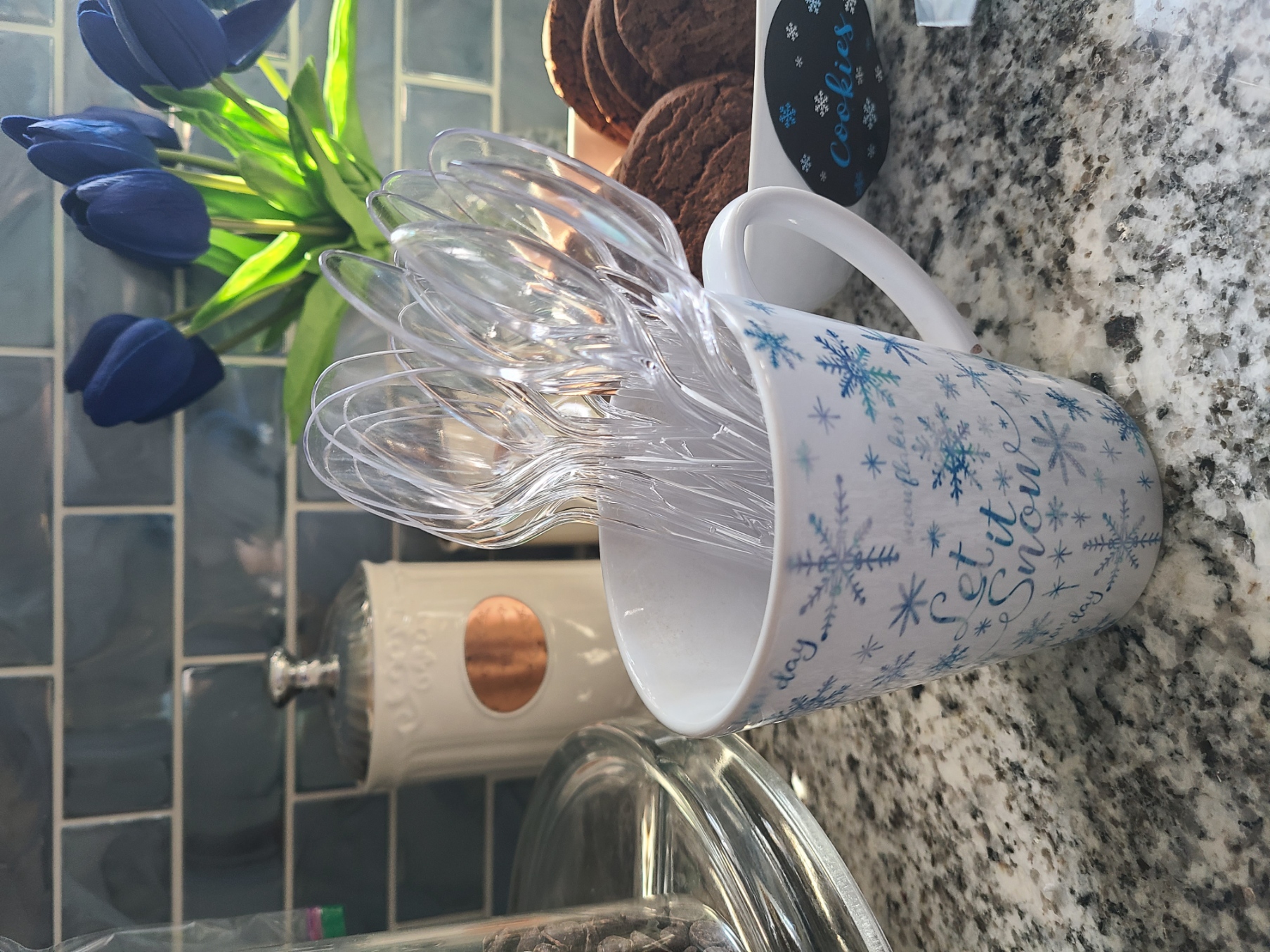 To add a little extra decor set out a vase and fake flowers. These are also items I had but you can find cheap options at the dollar store. Then use stickers or a marker so people can label which cup is theirs.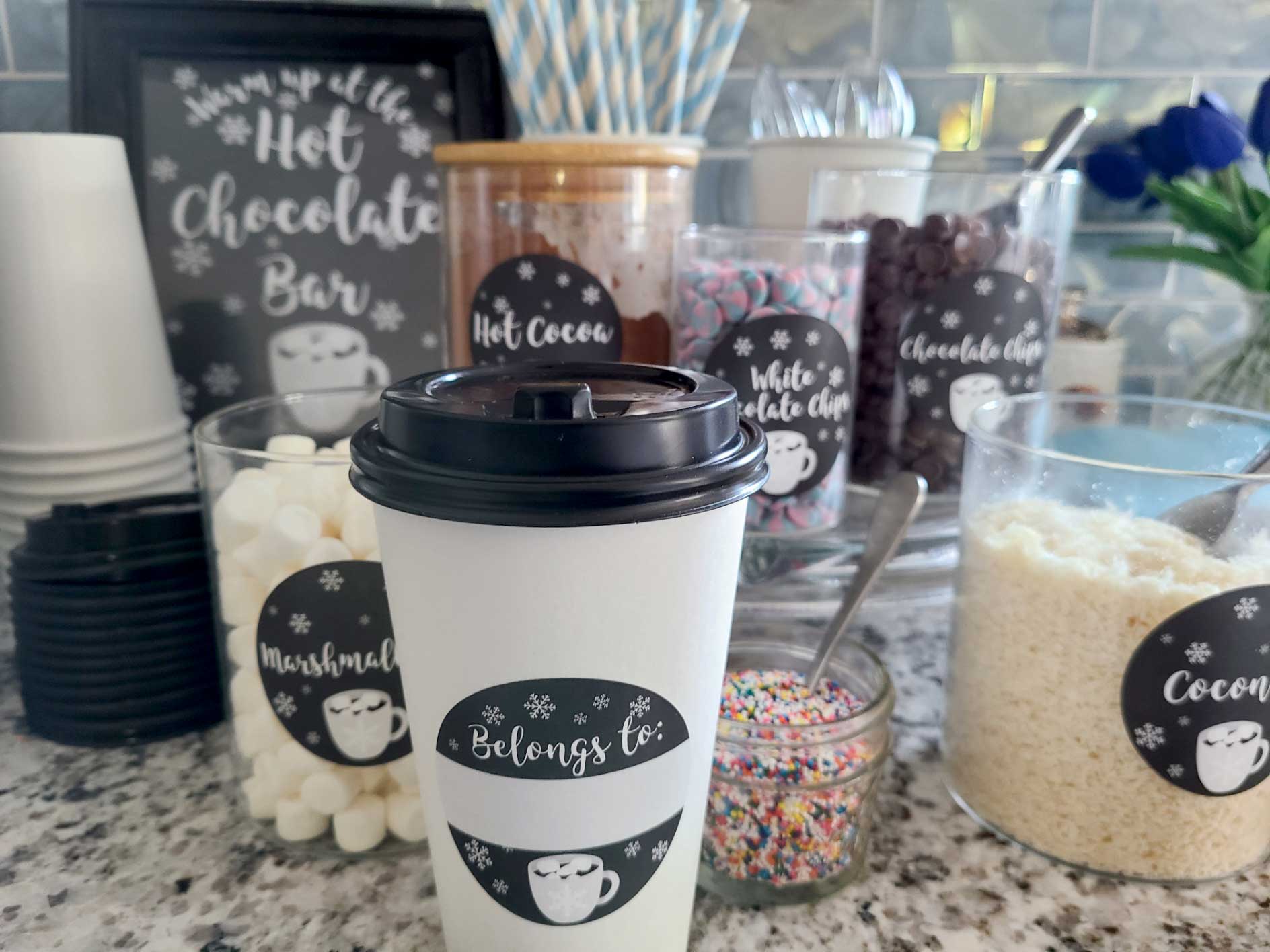 It's completely possible to have a nice hot chocolate bar without spend a lot of money. All it takes is a little creativity. $2 for hot cocoa and $1 for the cups. Total cost: $3 for 8 servings.
Recent Posts
Have you ever wanted to make tumblers?Either to give as gifts or start your own business? If so, the

Shipstation If you think pirateship or etsy labels are good enough then you have never tried shi

Hot cocoa bars are a lot of fun and perfect for the winter weather. They can be used at a gather